Unisorb V-100 - Epoxy Grout

Unisorb Standard V-100 Epoxy Grout is a two component, 100% solids, filled epoxy system tha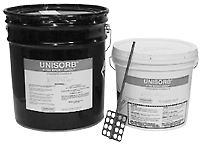 t cures very rapidly at normal room temperature. It sets up a tough durable impact and vibration resistant growth which eliminates chronic re-grouting common to many installations. Pours as thin as 1/16" and as thick as 1" may be made with Standard V-100 Epoxy Grout. It is a proven method of grouting, re-grouting and anchoring hard-to-hold heavy machinery.

Click to view Technical Data Sheet
Available in :
11 Lb. pail ( 173 cu. in.)
22 Lb. pail ( 363 cu. in.)
55 Lb. pail ( 916 cu. in.)
Benefits:

• Permanent.

•Easy installation.

•Fast cure.

•Minimum material usage, less expensive than cementitious grouts for many applications .

•Withstands severe shocks loads.

•Easy repair of foundations and pulled anchor bolts.


Physical Properties
Compressive Strength (psi)
9,000

6 Hours

3 Days

15,250

7 Days (Ultimate)
16,800

Tensile Strength (psi)

4,800

Flexural Strength (psi)

6,800

Allowable Thickness (Typical)

1/16" - 1"

Working Time

10 -15 minutes

Yield

16.5 cu. in. per lb.
Suitable For :
•Grouting machine bases.

•Setting anchor bolts.

•Setting levelling wedges.

•Setting sole plates


Click to view Technical Data Sheet