Installation Instructions - Unisorb "U" Mount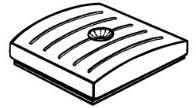 Clean floor, removing all oil, grease and debris.


Bring Machine into location and raise sufficiently to allow mounts to be positioned directly under the levelling bolts in the machines feet.


Lower machine until all levelling bolts are seated in the dimples in the top of the mounts.


Adjust each levelling bolt until machine is level.


After 2 hours and 24 hours of operation recheck the machine for level, and readjust as required.
SPECIFICATIONS

Model

Max
Load

A
Height

B
Base Size

U-9

900

1.00

3x3

U-16

1,600

1.00

4x4

U-28

2,800

1.00

4x4

U-36

3,600

1.00

6x6

U-48

4,800

1.00

4x4

U-100

10,800

1.50

6x6
WILREP LTD.
email: info@wilrep.com
Tel: (905)625-8944 Fax:(905)625-7142
Toll Free: 1-888-625-8944