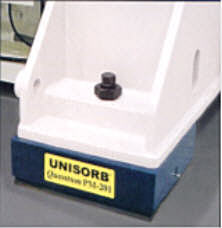 Unisorb® Quantum Press Mounts for heavy-duty presses eliminate the need to anchor machine to the floor. They solve impact-shock and vibration problems while providing precision levelling and alignment for trouble-free operation.

Quantum Press Mounts have an extra heavy-duty construction with broad bases and larger diameter levelling bolts. Designed for use with reciprocating or impact machinery, they provide close tolerance levelling adjustment. The mounts come with appropriately designed resilient isolation pads.
These self-contained levelling mounts simplify machinery installation. No drilling, lagging, adhesive, or shims are required. Accurate levelling is obtained simply by turning the levelling bolt. Once adjusted, a lock nut holds the adjustment secure. Quantum Press Mounts absorb shock / vibration and reduce noise. When properly installed, Quantum Press Mounts eliminate excessive gib wear, short die life, other alignment related problems and meet OSHA standards for anchoring machinery.

By properly utilizing Unisorb Press mounts, excessive press motion can be eliminated and uneven weight distribution can be compensated for to prevent frame distortion, which is a major cause of early machine failure.
Quantum Press Mounts can usually be installed on existing shop floors. Heavy, unbroken concrete floors, preferably reinforced and resting on a good base, are desirable. Isolation features of the press mounts result in elimination of floor damage. At the same time they reduce interference of nearby equipment due to press shock and vibration.
A variety of shock pads, bolt lengths and bolt diameters are available to meet the requirements of almost any press application. Contact a Wilrep sales technicians for recommendations at 905-625-8944.