QUANTUM PRESS MOUNT INSTALLATION INSTRUCTIONS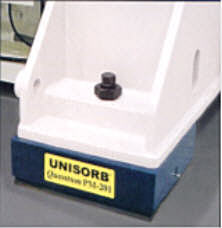 Clean floor, removing all oil, grease and debris.


Bring press into location and raise it sufficiently to allow mounts to be positioned under the mounting feet.


Remove the leveling bolts from mounts. Keep each leveling bolt and mounts together as a set, so that the stamped number on the housing and the bolt match head.


Position mounts with bolt holes, aligned with holes in press feet. Insert leveling bolts through bolt holes in press feet and screw into bolt holes in mounts.


Lower press onto mounts so all mounts accept uniform loading.


After 20 minutes (allowing the press to "settle in" ) locate the mount-housing closest to the floor and elevate it to 1/4" off the floor. Level the press by adjusting the other mounts using the first mount as the point of reference. On large presses it may be necessary to assist lifting the press by external means while adjusting leveling bolts.


The torques on the leveling bolts should be reactively equal, signaling equal load distribution.


Tighten nuts, thus securing press feet to mounts.


After 2 hours and after 24 hours of press operation recheck lowest housing to make sure it does not contact the floor when the press cycles. Follow press manufactures recommendations for frequency of level verification throughout life of the press.

Click To View Technical Data Sheet
SPECIFICATIONS

Mount Series

L*

W*

H8 (min.)

Standard Bolt Size*

PM-81

8.00

5.88

2.50

0.75 thru 1.25

PM-101

10.00

7.88

3.25

0.75 thru 1.50

PM-121

12.50

9.00

3.50

1.00 thru 1.75

Pm-161

16.00

12.50

4.50

1.25 thru 2.25

PM-201

20.00

16.00

6.00

1.75 thru 3.00

PM-261

26.00

22.00

7.50

2.50 thru 4.00

PM-301

30.00

24.00

9.50

3.00 thru 4.50

PM-321

32.00

24.00

10.50

3.00 thru 5.00

PM-381

38.00

25.50

13.00

4.00 thru 6.00
WILREP LTD.
email: info@wilrep.com
Tel: (905)625-8944 Fax:(905)625-7142
Toll Free: 1-888-625-8944