Level-Rite Installation Instructions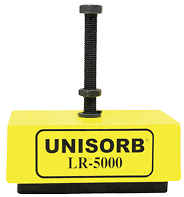 Clean floor, removing all oil, grease and debris.


Bring Machine into location and raise sufficiently to allow mounts to be positioned under the mounting feet.


Remove the leveling bolts from the mounts. Properly orient the lock washers and hex.nuts on the bolts.


Position mounts (with bolt holes aligned with holes in machine feet), insert leveling bolts through bolt holes in the machine feet, and screw them into the mounts.


Adjust each mount with the leveling bolt so the pad extends below the mount housing approximately 1/4".


Lower machine onto mounts so all mounts accept as uniform loading as possible.


Locate the mount housing closest to the floor and elevate it 1/8" to 1/4" off the floor. Level the machine by adjusting the other mounts using the first mount as the point to reference.


Tighten nuts and lock washers, thus securing machine feet to mounts.

Click here for Level Rite Technical Data Sheet - PDF Format

Specification

Model

Max
Load
(lbs)

A

L

W

H

Standard
Bolt
Size

Max.
Mach.
Foot Th.

LR-2500

2.27

7.78

5.50

3.50

2.50 / 3.88

M12 x 1.75 x 150

2.27

LR-5000

2.08

7.77

7.00

4.50

2.50 / 3.88

M16 x 2 x 150

2.08

LR-7500

1.91

7.88

8.00

5.00

2.50 / 3.88

M20 x 1.5 x 150

1.91

LR-12000

3.65

9.94

8.00

5.88

2.50 / 3.88

M24 x 2 x 200

3.65

LR-16000

3.40

10.32

10.00

7.88

2.50 / 3.88

M24 x 2 x 200

3.40

LR-25000

3.53

10.74

12.50

9.00

3.50 / 4.88

M30 x 2 x 200

3.53

LR-35000

4.52

11.09

16.00

12.50

4.50 / 5.88

M36 x 2 x 250

4.52
Wilrep Ltd.
email: info@wilrep.com
Tel: (905)625-8944 Fax:(905)625-7142
Toll Free: 1-888-625-8944