Installing a Lev-L-Ine Machinery Mount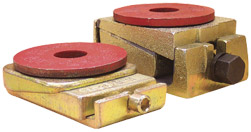 Make sure floor is clean and free of all obstructions and loose or broken concrete.


Place mounts under the machine, ensuring that the spherical bearing seats are centered beneath the mounting points. If anchor bolts are being used, place mounts over the anchor so adjusting bolts are accessible.


Adjust the mounts to their lowest positions, then adjust the mount up by turning the bolts two turns or until all surfaces are bearing and the maximum amount of travel is available. ( Note that the LL-7 leveling bolt has left hand threads).


Carefully lower machine onto the mounts. If necessary, raise the mounts until all spherical bearing seats contact the mounting points.


Check the level on the machine to find the highest mounting point.


Gradually bring the rest of the machine up to the same level as the machine high spot by turning the adjusting bolts. Never make too large a vertical lift using any one mount. This could cause a uneven weight distribution on the mounts and possible contribute to component failure. If the load on the mount is in excess of one half its rated load, it is recommended that a mechanical or hydraulic lifting device be used to raise the machine in order to adjusting bolt. When maximum vertical adjustment has been reached, a noticeable increase in torque will be noticed. Further adjustment could cause component failure.


If the anchor bolts are used, tighten all anchor bolts to allowable torque limits after leveling (per manufacturer specifications). Recheck level.


It is important to note that the mounts are designed to lift only. It is not necessary to lower the mount with a load applied, a hydraulic or other mechanical lifting device should be employed to relieve the load from the mount, then the mount may be adjusted down to the desired level.

Click here for Unisorb LL Technical Data Sheet - PDF Format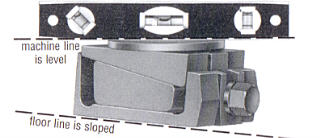 WILREP LTD.
email: info@wilrep.com
Tel: (905)625-8944 Fax:(905)625-7142
Toll Free: 1-888-625-8944