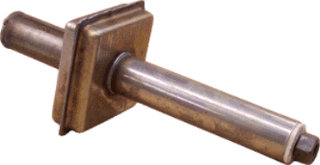 Heavy duty Jake Bolts offer a truly cost effective way to provide strong, problem-free, high quality anchors for virtually any application. They are designed to be hung from a template or welded directly to reinforcing steel, then cast in place during new foundation construction.

Constructed entirely of steel, the heavy duty Jake Bolts are tough, durable, MIG welded watertight to prevent contamination of internal components during installation. Each Jake Bolt comes supplied with a centralizing bushing which doubles as a seal and protects against contamination during grouting. Jake Bolts are manufactured with retractable studs to allow a "clear floor" condition at any time. Anchor studs can be adjusted to project above the floor from 0 to 6inches, or from 0 to 12", depending on the bolt specified for the installation. The entire internal anchor assembly can be adjusted laterally as well as vertically to compensate for normal construction variances in both hole location and machine foot thickness.

The heavy duty Jake Bolt incorporates 90,000 psi tensile strength steel in the bolts. The all-steel anchor assembly is designed for service under the most severe conditions. Special version of the heavy duty Jake Bolts are available upon request.