AcoustiGuard RB - Reinforced Barrier Material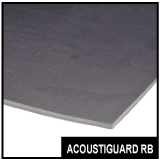 AcoustiGuard RB is a 'loaded' PVC with a fiberglass scrim center making it an extremely durable and highly flexible acoustic barrier. This 1.0 lb. per sq. ft. material is an attractive light silver/grey in color. It is very easy to work with and readily accepts fittings such as grommets or Velcro, making it an excellent choice for curtains or acoustic over-wraps. The surface is easy to clean and contamination resistant, allowing it to be used in nearly any environment.





Click here for RB Technical Data Sheet - PDF Format
APPLICATION AND PRODUCT DATA



Performance Data
Performance data is an extract from NRC - Ottawa report on tests
according to ASTM E 90-75 and ASTM E 413-73.

Uses: • Curtain Barrier • Acoustic Wrap • Machine Guard Flaps (acoustic not protective)

AcoustiGuard™ RB is easy to apply and is cut with common utility knives. Secure and permanent installations may include grommets, hook & loop and mechanical fasteners or specified adhesive - available from Wilrep Ltd.

Thickness: Approx. .090 in. - .105 in. thick.

Standard Dimensions Rolls: 54" wide X 60', trimmed (270 sq. ft.) - Part rolls available

Sheets: 54" wide X 72", trimmed (27 sq. ft.)
Custom Curtain Systems, Trimming and Die Cutting Can Be Provided
Typical Physical Properties: Reinforcement: 15 mil Fiberglass Scrim
Tensile: ASTM D4 12-64 - 495 lb. / sq. in.
Elongation: ASTM D4 12-64 - 200 %
Tear: ASTM D 1004-66 - 90 lb. / in.
Weight: AcoustiGuard RB - 1.0 - 1.1 lb. / sq. ft.
Cold Crack: (@ -40 F/C) - No crack when bent 180 over 1" mandrel Flammability: MVSS 302 - Passes, Self-extinguishing / No burn rate
Frequency (Hz)

Transmission Loss (dB)
AcousticGuard™ RB

100

15

125

17

160

17

200

12

250

18

315

17

400

20

500

20

630

23

800

26

1000

26

1250

28

1600

28

2000

33

2500

35

3150

36

4000

38

5000

40

STC

25

Click here for RB Technical Data Sheet - PDF Format