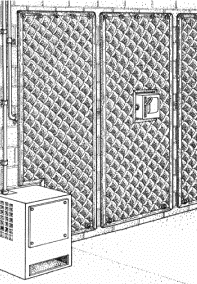 AcoustiGuard Quilted Absorption Panels
The AF series panel is a versatile noise control product that combines durable facings with quilted acoustic absorbers. Typical installation of quilted panels on factory wall. Panels can be easily site-cut and the edges rebound to fit around light switches, control panels and other obstructions.






Click here to download the technical data sheet





HIGH PERFORMANCE NOISE CONTROL AcoustiGuard AF is an attractive, fire rated absorption panel that can be easily attached to any 'hard surface' or hung as acoustic baffles. These quilted panels are designed to reduce reverberant (reflected) noise and absorb broadcast noise along transmission paths. They are ideal for surfaces in large open areas like factory walls and gymnasiums. Other treatments include noise absorbing liners for operator stations or equipment housings.
PANEL CONFIGURATION
Acoustic glass fiber is quilted in a 'diamond' or 'straight' pattern and faced with a vinyl coated fiberglass cloth resistant to most industrial contaminants. The back of the panel is faced with a fire rated scrim - face goods optional on both surfaces. All panel edges are bound and fitted with grommets and Hook & Loop style fasteners as required.
Standard Thickness - 1" and 2" nominal with special orders for panels up to 4" thick.
Standard Width - From 54" roll goods, 50' long rolls in 1 inch absorber, 25' long rolls in 2 inch absorber. Custom sizes and shapes available.
Standard Facing - Minus 20° to 180°F temperature range.
Optional high temperature facing up to 550°F is available.
Colors - Silver/grey (standard) and optional beige.
Special panels can be made using different facings or films for specific environmental application.
APPLICATIONS
NOISE ABSORBING LINERS FOR ENGINE COMPARTMENTS AND EQUIPMENT HOUSINGS.
ABSORPTIVE LINING FOR FACTORY WALLS OR OTHER REFLECTIVE SURFACES.
ATTRACTIVE SUSPENDED BAFFLES.
DECORATIVE CLOTH FACINGS FOR ARCHITECTURAL APPLICATIONS.

ATTRACTIVE SURFACE FINISH
Vinyl coated fiberglass cloth is quilted directly to the fiberglass absorber using high strength thread. Available in attractive 'diamond' or 'straight' quilt pattern.





COMMON STYLES
Illustration shows the composite layers of AcoustiGuard AF series panels.
1) VINYL COATED FIBERGLASS CLOTH (Silver/Grey color standard, beige available)
2) 1" or 2" ACOUSTIC GLASS FIBER (quilted with cloth cover)
3) SCRIM or OPTIONAL FACE GOODS
CUSTOM PANELS can be manufactured to fit the interiors of equipment housing and cabinets. Quilted absorption panels are contamination resistant and suitable for low or high temperature applications.

INSTALLATION
Installation is fast and easy using standard mechanical fasteners. It is recommended that wall panels be installed on 1" or 2" furring strips or standoff tubes. This will allow panels to clear most piping and conduit. Performance can actually be increased by utilizing this air gap.
Absorption Coefficients / Frequency (Hz)
Model
125 Hz
250 Hz
500 Hz
1000 Hz
2000 Hz
4000 Hz
NRC
AF
.12
.47
.85
.84
.64
.62
.70
AF2
.17
.30
.83
.82
.59
.37
.65
A2F
.38
.89
.82
.76
.83
.35
.75