QT 4005 & QT 4010 Underlayments
Click here for QT Underlayment Technical Data Sheet - PDF Format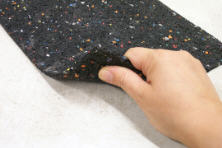 Today's lightweight structures pose many challenges for architects and engineers. Impact sound reduction within multi-level units is imperative in meeting building codes and delivering high levels of acoustic control and privacy for interior space.



Highest IIC Rating
While many methods for reducing sound impact are available, no one product, on a stand alone basis, can match the IIC (Impact Insulation Class) ratings of QT- Sound Insulation. A sheet product, in continuous lengths, made from 100% recycled rubber, QT achieves higher impact sound reduction ratings then the industry according to ASTM standards E989-89 and E492-90. With IIC product ratings up to 25, QT - Sound Insulation outperforms cork, polyethylene, fiberglass and nylon matrix.

Lowest System Height
The QT- Sound Insulation single ply system not only ranks as the largest contributor to impact sound reduction, but also offers one of the lowest system heights in the industry. It doesn't need a suspended ceiling to produce required IIC ratings and eliminates the need for ramping between rooms while allowing floor and ceiling heights to be increased.

Guaranteed Results QT- Sound Insulation's
Certified System Guarantee assures a required IIC rating for your specified construction
Click here for QT Underlayment Technical Data Sheet - PDF Format
Versatile
Product range and versatility are important to builders and architects alike. QT- Sound Insulation offers two thickness options that products exceptional results under hard surface flooring and over concrete and wood joist constructions. Custom thickness' are also available.

The Power of QT- Sound Insulation IIC
The chart below illustrates the QT IIC contribution to a variety of flooring constructions.
Floor Structure
& Finish

Without
QT

QT
(21IIC) 5mm (31/16")

QT
(25IIC) 10mm (3/8")

Bare 6" Concrete
with Ceramic Tile

27

48

52

Bare 6" Concrete
with Hardwood

27

51

55

Bare 6" Reinforced Concrete with Ceramic Tile

32

53

57

Bare 8" Concrete
with Hardwood

35

59

63




Thickness

5mm (.200")

10mm (.4000")

ASTM Test Method

Form and Dimensions
Roll 48"x 30'
Roll 48" x 15'
-
Weights / sq. Ft.
0.75 Lbs.
1.5 Lbs.
-
Weight / Roll
90 Lbs.
90 Lbs.
-
Compression (Deflection) @ 100 psi.
25% - 35%
25% - 35%
ASTM F36
Tensile Strength
100 psi. (min)
100 psi. (min)
Die C
ASTM D412
Shore A Hardness
45 - 55
Diameter
45 - 55
Diameter
ASTM D2240
Tear Strength
40 Lbs / in.(min)
40 Lbs / in (min)
ASTM D624
Compression Set B
40 % (max)
40 % (max)
ASTM D395
TCA Robinson Test
Light Commercial
Light Commercial
ASTM C627
Click here for QT Underlayment Technical Data Sheet - PDF Format