CONASORB V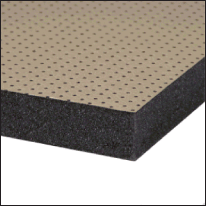 Conasorb V is a combination of a perforated vinyl film bonded to a polyester polyurethane foam. The perforated vinyl film provides a scuff and wear resistant surface that is suitable for dusty or moderately dirty environments where it is not exposed to contaminants such as direct oil or water spray.

Conasorb V is ideal as an enclosure or room surface absorber where a functionally attractive and cleanable surface is desired. The vinyl film surface is available standard beige, gray or black.




• ENCLOSURE LINERS •ROOM SURFACE ABSORBERS
• EQUIPMENT CAB LINERS & SILENCER LINERS

Click here for Conasorb V Technical Data Sheet - PDF Format
Conasorb V is easy to apply and can be cut with common utility knives.
For secure and permanent installations use specified adhesive.
Thickness & Standard Dimensions

Sheet Size: 54 inches x 72 inches (27 square feet).

V 50: 1/2 inch thick    
V100: 1 inch thick
V200: 2.0 inch thick