BARYMAT BM-1C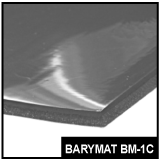 BARYMAT BM-1C is an extremely versatile noise control composite. It consists of (from the top down) a clear, tough, polyester cover for contamination and weather (inc'l. UV) resistance, a loaded, flexible, 1.6 lb.. per sq.. ft.. barrier for transmission loss (.8 lb.. also available) and a .25 in. urethane foam decoupler.

BARYMAT BM-1C is very effective as an acoustic lagging to reduce breakout noise in pipes and ducts and can be used to increase transmission loss in walls and ceilings.



Click here for Barymat BM-1C Technical Data Sheet
COMMON USES:
• Pipe / Duct Wrap • High TL Walls & Ceilings • Lagging for Machinery Housings


BARYMAT BM-1C is easy to apply and is cut with common utility knives. For secure and permanent installations use reinforced duct type tape, mechanical fasteners or specified adhesive - available from Wilrep Ltd.

Thicknesses: Approx. .3125 in. - overall composite thickness.

Standard Dimensions:
Sheets: 54" wide X 72", untrimmed (27 sq..ft.. )
Rolls: 54" wide X 30' , untrimmed (135 sq.. ft..)

CUSTOM TRIMMING AND DIE CUTTING CAN BE PROVIDED
Typical Physical Properties:
Barrier Colour: Black
Foam Colour: Charcoal Grey
Foam Density: ASTM D 3574-86 - 1.8 - 2.2 lb.. / cu.. ft..
Composite Weight: BM-1C - 1.7 lb.. / sq.. ft.. (BM-1A - 0.9 lb.. / sq.. ft..- also available)
Flammability: MVSS 302 - Passes
Frequency (Hz)

Transmission Loss (dB)
BM-1C

80

23

100

23

125

23

160

23

200

23

250

23

315

22

400

26

500

30

630

33

800

38

1000

42

1250

45

1600

47

2000

47

2500

47

3150

51

4000

53

5000

55

6300

56

STC

34

Click here for Barymat BM-1C Technical Data Sheet - PDF Format

Click here for Barymat BM-1C MSDS - PDF Format