Adhesives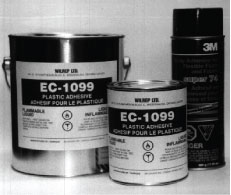 EC1099
  - Most recommend adhesive to use with any of the AcoustiGuard™ sheet or rolls goods. Will not damage or react with the Barymat barrier or Conasorb acoustic foam products.



EC1099

Technical Data Sheet
SUPER 74 FASTFOAM ADHESIVE
convenient spray adhesive for smaller coverage areas, installations in tight spaces and quick repairs.



Super 74 Fast foam Adhesive Technical Data Sheet
Recommended Uses - Acoustic Absorbers, Barriers and Composites

EC1099 Installation Instructions


EC1099 - MSDS

Super 74 Foam fast Adhesive Installation Instructions - coming soon


Super 74 Foam fast Adhesive - MSDS

PLEASE CALL OR EMAIL WITH AN QUESTIONS
WILREP LTD.
email: info@wilrep.com
Tel: (905)625-8944 Fax:(905)625-7142
Toll Free: 1-888-625-8944